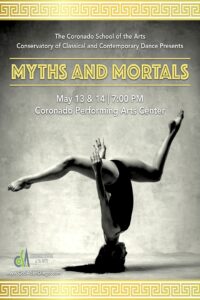 Tickets for Myths & Mortals May 13, 2022     |     Tickets for Myths & Mortals  May 14, 2022
This Spring, the Conservatory of Classical and Contemporary Dance at the Coronado School of the Arts excavates timeless tales and supernatural characters in Myths and Mortals, an evening of dance featuring eighteen original dances inspired by myths from around the world. Faculty and student choreographers offer new insights into sacred fables that explain natural phenomenon and the human condition. According to mythology scholar Joseph Campbell, myths elevate the life of a believer from mundane existence to a life imbued with significance. This May, witness how dance gives new meaning to the stories that give us meaning.
One notable piece in the program is "Wildflowers in Suburbia" by Conservatory Director Gina Bolles Sorensen. In this piece featuring the full CoSA Dance ensemble, Sorensen looks at the Greek gods Apollo and Dionysus and searches for a balance of order and chaos in their coexistence. Also of note is "Death is the Beginning" by CoSA Dance faculty, Michael Villela. Inspired by the Egyptian God, Osiris, the dance follows the soul's journey through the afterlife and rebirth. These dances and more will be introduced by artistic renderings of text in projection.
Join us for performances of Myths and Mortals on May 13 and 14 at 7:00 PM in the Coronado Performing Arts Center at Coronado High School.
 Tickets for Myths & Mortals May 13, 2022     |     Tickets for Myths & Mortals  May 14, 2022